**Wednesday – September 8th**
Crossfit Cle – CrossFit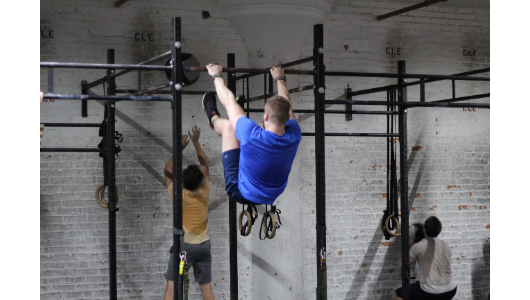 Lot's of toes to bar time today. Work on building a more effective kip to do some slightly larger sets.
Warm-up
Warm-up (No Measure)
3 minute circuit:

3 pushup

6 PVC overhead squat

9 lemon squeeze
5 I-T-Y raise

10 passthrough

5 snow angel

10 scap pullup

6 updog windmill

10 kip
Burgener warmup:

with a PVC pipe and then with a barbell:

3 down and finish

3 elbows high and outside

3 high hang muscle snatch

3 power snatch balance

3 hang power snatch
Metcon
Metcon (AMRAP – Reps)
30 minutes alternating OTM:

45 seconds of double unders

7-15 toes to bar

3 touch and go power snatch (50%+)
*Improve your double unders, pick a t2b number that allows you to maintain 1-2 sets and build to a very heavy triple on the power snatches.

****Score today is the total number of toes to bar you complete.
Cooldown
Metcon (No Measure)
3-4 minutes light row

1 minute updog

1 minute calf stretch R/L