**Wednesday – September 7th**
Crossfit Cle – CrossFit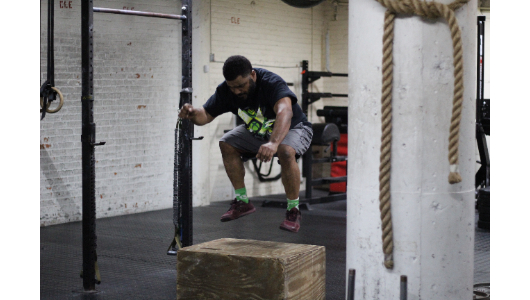 Up and over!
Warm-up
Warm-up (No Measure)
2 rounds, 30 second clock:

Step up normal/high

Situp and reach

Pushup to updog, pushup to downdog
10 walking lunge step

30 second pigeon pose R/L
1 minute banded hip opener R/L

2 minute doorway stretch

5 backward arm circles
Weightlifting
5 superset rounds on a 3 minute clock:
Dumbbell Lunge Complex (5x Complex)
Perform the complex with a dumbbell or a set of dumbbells as prescribed.
With 2 dumbbells:

6 farmers carry lunge

4 front rack lunge

*Perform as a single unbroken set of 10 walking lunge steps.

30 seconds of dip practice. Build for 3 sets and hold heavy for final 2.
Dips (5x 30 seconds)
Pick a specific dip or dip drill to work on and spend 30 seconds getting better at it.
MetCon
Metcon (3 Rounds for reps)
3×2 minute AMRAPs with 3 minutes of rest between:

10 burpee box over 24/20″

15 V-up

Strict pullup

*Rx+ for a taller box.