**Wednesday – September 1st**
Crossfit Cle – CrossFit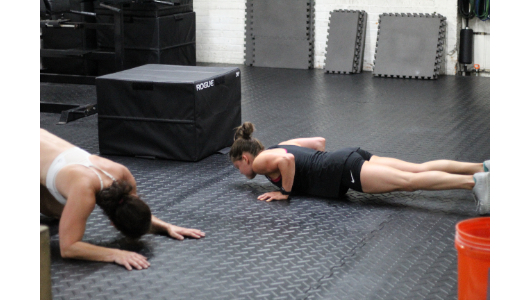 Simple, not easy!
Warm-up
Warm-up (No Measure)
2 minute row, bike, ski or run

10 Samson's stretch

10 light dumbbell strict press R/L

10 scap pullup

5 windmill R/L

30 second supinated grip hang

10 birddog
1 minute cranky elbow stretch
Weightlifting
Front Rack Lunge (6 variable sets )
6 superset rounds on a 3 minute clock:

12-10-8-6-4-2

Front rack lunge (build to a heavy double)

3 strict pullup (slow both ways if possible, negatives or ring rows if needed)

*Barbell starts on the floor. Power clean into the front rack.
Metcon
"Tribata" (AMRAP – Reps)
Pick 1 movement from each category, perform 8 rounds of an alternating Tabata with those three movements:
Push:

Pushup, push press, strict press, handstand pushup, bench press (Dumbbell option)
Pull:

pullup (strict or kipping), ring row, muscle up, rope climb (scaled as needed)
Crunch:

GHD situp, Abmat situp, v-up, lemon squeeze
*Score is your lowest set for each movement (12 pushup, 8 pullup, 8 GHD situp, 28 total reps