**Wednesday – November 17th**
Crossfit Cle – CrossFit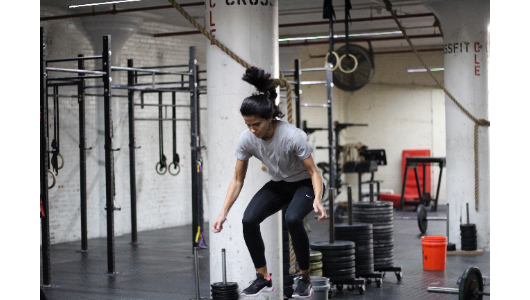 Layan floating some easy box hops!
Warm-up
Warm-up (No Measure)
2 minute row

5 yoga inchworm

15 pvc passthrough

10 spiderman windmill

10 open hand overhead squat
10 reps banded hamstring floss R/L

2 minutes on the foam roller to work and back and lats
5 reps each with PVC pipe:

5 down and finish

5 high pull

5 high hang muscle snatch

5 hang muscle snatch
Weightlifting
Snatch Complex (Fluid) (3 superset rnds on 5 min)
Perform as a unbroken complex.
3 rounds of the complex on a 5 minute clock:

5 hang muscle snatch

5 behind the neck strict press

15 good morning

*Spend the remainder of the time mobilizing your overhead position.
Metcon
Metcon (Time)
3 rounds for time: *15 minute cap

500m row

15 lateral burpee over rower

10 overhead squat 135/95#
*Rx+ for tall rower and 155/105# overhead squat.