Crossfit Cle – CrossFit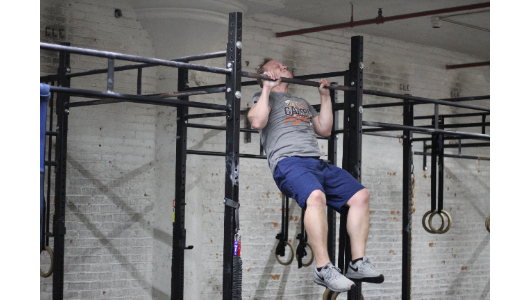 Developing new skills and becoming more capable!
Warm-up
Warm-up (No Measure)
1 minute row

10 sumo foldover

10 pushup

30 seconds of happy slappy hugs

3 wall climb with 10 second handstand hold
2 minute doorway stretch

1 minute banded hamstring lockouts R/L
RDL and hip extension demo
Accessory
Metcon (4 Rounds for reps)
4 superset rounds on a 4 minute clock:

10 Romanian deadlift 40% of your 1RM deadlift

5-10 strict ring dip (70-80% effort)

5 hip extension with 5 second horizontal hold
Note the reps completed each round for the dips.
Metcon
Metcon (Time)
For time: *15 minute cap

21-15-9-6-3

Power clean 135/95#

Handstand pushup

Front squat
*Use the same weight you used for "Grace".