Crossfit Cle – CrossFit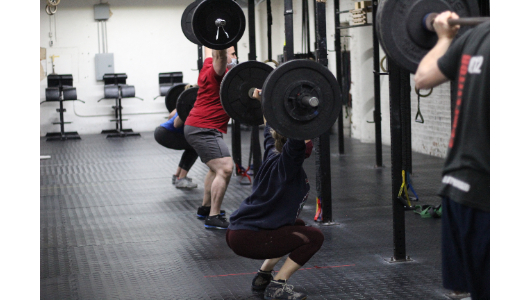 Position is power! Know where you are and where you need to go.
Warm-up
Warm-up (No Measure)
2 rounds:

200/400m erg (light tempo, medium-high tempo

5 sumo foldover

10 PVC passthrough

10 overhead squat
10 lateral leg swings (EL)

10 frontal leg swings (EL)
3 minute review and practice on snatch balances. Start with PVC and move to a barbell from a rack. Leave it racked for when you finish the intervals.
Intervals
6x500m, 2 minute rest between efforts. (6 Rounds for time)
Pace to maintain or improve splits.
Record you machine choice and your split times. Remember on a bike erg this will be 6x1k
Weightlifting
Snatch Balance (5×3 (with 2 sec pause in squat))
Rest as needed between sets. Focus on timing and position for this drill. Get those things dialed in before you start pushing heavy loads.