**Wednesday – March 16th**
Crossfit Cle – CrossFit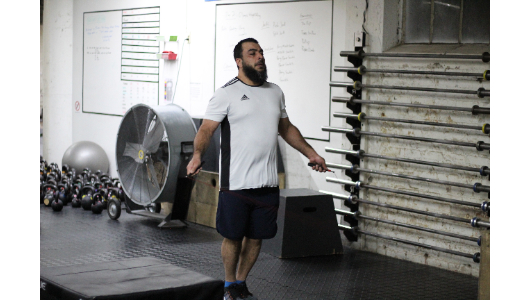 Adding new faces to our community every week! Welcome to CrossFit CLE Ajmal!
Warm-up
Warm-up (No Measure)
3 minutes of Ring Row Cindy:

5 ring row

10 pushup

15 air squat
6 Samson's stretch

15 PVC passthrough

6 Cossack's squat

15 PVC passthrough
1 minute of cranky elbows
With a barbell:

5 dip and hold

5 split jerk drop

5 split jerk
Weightlifting
7 superset rounds on a 3 minute clock:

3 split jerk

Single unbroken set of strict pullups
Split Jerk (7×3)
First 3 sets stay lighter, working technique and final 4 sets build to a heavier triple
Strict Pullup (7x set)
Do your best to hold your body in a hollow and pull the bar to your body. Use bands or modify to rows as needed.
Perform a single unbroken set of strict pullups. Keep your set consistent for all 7 rounds.
Metcon
Metcon (AMRAP – Rounds and Reps)
12 minute AMRAP:

10 sumo deadlift high pull 95/65#

10 push press

10 front squat