**Wednesday – June 16th**
Crossfit Cle – CrossFit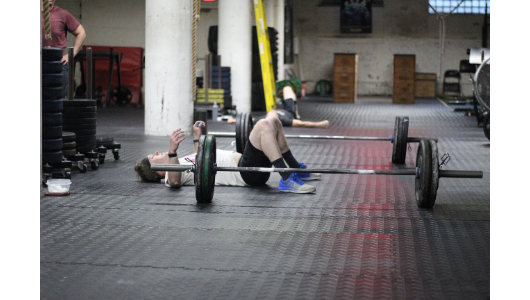 Never underestimate the short AMRAP. Less time means greater intensity!
Warm-up
Warm-up (No Measure)
3 minute circuit:

3 burpee

5 PVC overhead squat

3 good morning (3 second hold)

5 PVC passthrough
6 lunge and twist (long hold)

6 Cossack's squat (long hold)
2 minute keg stretch
With a barbell:

3 down and finish

3 elbows high and outside

3 high hang muscle snatch

3 snatch balance (high, middle, low)

3 hang power snatch

3 hang snatch
Weightlifting
Snatch Complex (Fluid) (20×2 alternating OTM:)
Perform as a unbroken complex.
20 minutes, alternating OTM:

Hang power snatch + power snatch

Hang snatch + snatch

*Spend the first 10 minutes working technique and building load. Spend the final 10 minutes executing crisp, heavy lifts. Don't sacrifice accuracy for load. This needs to be used to benefit your technique, not reinforce bad habits.
Metcon
Metcon (AMRAP – Rounds and Reps)
7 minute AMRAP:

7 deadlift 50% of 1RM

5 bar facing burpee

3 bar muscle up (scale with fewer bar muscle ups, or sub 6 dips)