**Wednesday – July 13th**
Crossfit Cle – CrossFit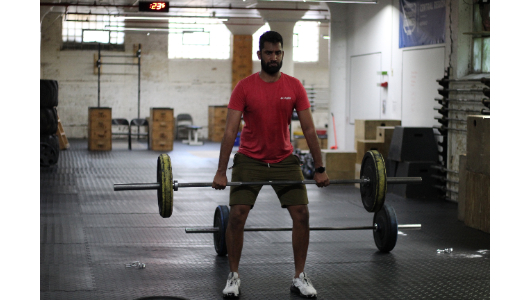 Get those thumbs ready.
Warm-up
Warm-up (No Measure)
3 minutes of strict Cindy:

5 pullup/ring row

10 pushup

15 air squat
2 sets:

10 pvc passthrough

5 single arm dumbbell strict press R/L

5 windmill R/L

5 prone snow angel
Weightlifting
4 supersets on a 4 minute clock
Shoulder Press (4×7)
Start light and keep your core tight. 2 rounds increasing weight. 2 holding.
Good Mornings (4×10)
Use your strict press weight. Focus on core control and take the set smooth and steady.
Metcon
Hang on burpees (Time)
3 rounds for time: *15 minute cap

20 burpee toes to bar

15 hang power clean 115/80#

*Set your pullup bar just out of standing reach. Scale to burpee knee raises. Barbell must be finished in 3 sets or fewer.

**Rx+ for a heavier barbell.