**Wednesday – January 12th**
Crossfit Cle – CrossFit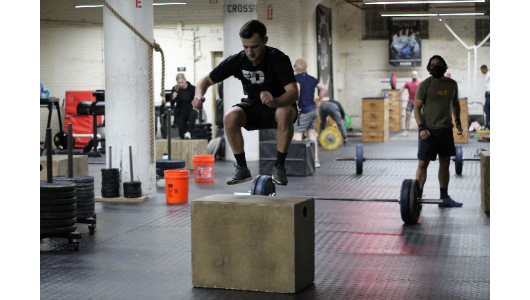 We are excited to be adding another fitness enthusiast to our ranks. Welcome to CLE Dan!
Warm-up
Warm-up (No Measure)
2 rounds, 30 seconds per movement:

Jumping Spiderman

Sumo squat

Banded good morning

Banded strict press
15 pvc passthrough

5 down and finish

5 hang power clean

5 push jerk

5 around the world each way
1 minute cranky elbow stretch

3 minutes of personal mobility
2×5 with a barbell

Hang power clean and jerk (focused on cycling)
Metcon
Metcon (Time)
For time:

21-15-9

Power clean and jerk 135/95#

Bar lateral burpees over barbell
*Bar should not weight more than 60% of your clean and jerk 1RM
Weightlifting
5 superset rounds on a 3 minute clock
Sumo Deadlift (5×7)
build up and maintain a challenging load for the final 3 rounds.
Ring Dips (5×10)
strict dips, on rings if possible, add band assistance if needed.