**Wednesday – February 9th**
Crossfit Cle – CrossFit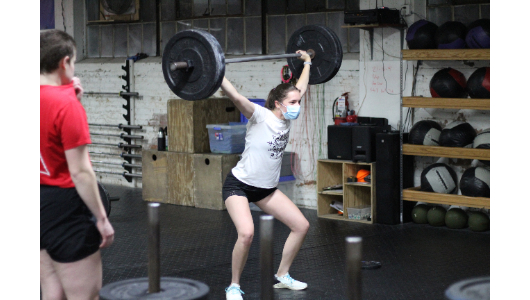 Another new addition to our community, Erin is no newbie to CrossFit and has been kicking ass in the morning classes!
Warm-up
Warm-up (No Measure)
3 rounds:

10 box step up (short/normal/high)

10 air squat

10 PVC passthrough

10 kip
5 Crossover R/L

5 Scorpion R/L

1 minute pigeon pose R/L
With a barbell:

5 down and finish

5 hang power snatch

5 overhead squat
Metcon
Metcon (AMRAP – Rounds and Reps)
14 minute AMRAP:

20 box step up 24/20″ with 50/35# dumbbell

15 wallball shot 20/14# to 10/9′

10 toes to bar
Weightlifting
Snatch Complex (2rm)
Perform as a unbroken complex.
At 17 minutes on the clock, 5 minutes to establish a max:

2 snatch (any type, touch and go)
50 Burpee February
50 Burpee February – Day 9 (5 Rounds for time)
5 rounds for time on a 2 minute clock:

10 burpee pullup

*You must have a minimum of 30 seconds rest at the end of each 2 minute window. Scale reps and rounds accordingly. Pullup bar should be 6″ outside of standing reach.