**Wednesday – April 6th**
Crossfit Cle – CrossFit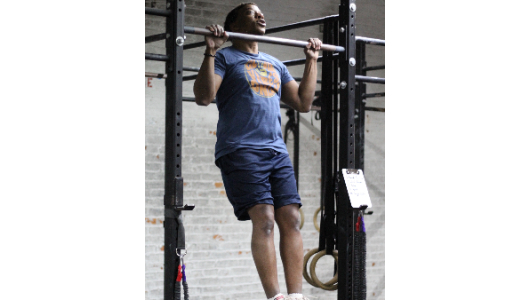 That's a grip right there! Work on keeping those knuckles high and thumbs wrapped around folks!
Warm-up
Warm-up (No Measure)
2 rounds:

10 banded good morning

10 ring row

10 Russian kettlebell swing

10 pvc passthrough
2 minute foam roll lats

1 minute banded hamstring floss R/L
5 minute review and warmup kettlebell windmills
Weightlifting
Single Leg Romanian Deadlift (5×7)
Work controlled hip hinging. Keep your shoulders and core set.
Strict Pullup (5×3)
Do your best to hold your body in a hollow and pull the bar to your body.
Add weight if possible. Score each round with your weight added. Use the notes to detail scaling with singles, bodyweight, negatives or leg assisted.
Windmill (5x2R/2L)
*Start by sending hips back. Keep both legs straight. Touch the floor and stand fully with eyes up for full ROM. Start light and control your lifts. Scored 10×2 for your two arms!
Metcon
Metcon (AMRAP – Rounds and Reps)
7 minute AMRAP:

15 kettlebell swing 53/35#

100m kettlebell carry any way you like

5 kettlebell push press R/L