**Wednesday – April 20th**
Crossfit Cle – CrossFit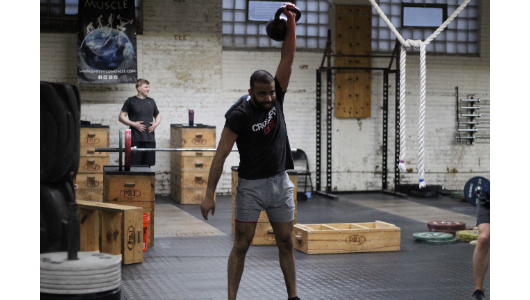 It's a good day to bring some sweat bands to pad those forearms!
Warm-up
Warm-up (No Measure)
3 rounds with light kettlebell/s:

5 sumo deadlift high pull

5 windmill R/L

10 Russian swing / swing release / switch
3 minutes to practice and warmup kettlebell snatches. (Set out your weight for the workout)
1 minute banded lat stretch R/L

1 minute banded crossover stretch R/L

1 minute cranky elbows
Weightlifting
Clean Complex (10x complex on a 90 second clock:)
Perform as an unbroken complex. Use a hook grip.
Power clean

Hang clean

*Work from 50% of you max clean to a complex max.
Metcon
P1: Metcon (Time)
For time:

150 double under (3 minutes of work max, 250 single under)

30 burpee 6″ touch

50 kettlebell snatch 5R, switch, 5L (use a weight that will allow you to do this in 1-3 sets using a switch to change hands)

30 burpee 6″ touch

150 double under
Score your weight in P2
P2: Metcon (Weight)
Kettlebell weight