**Tuesday – September 13th**
Crossfit Cle – CrossFit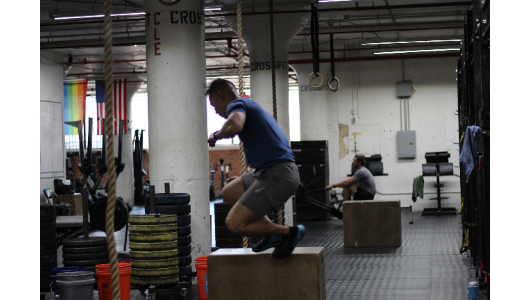 Staying low!
Warm-up
Warm-up (No Measure)
2 rounds:

10 alternating lunge (backward step)

5 dumbbell windmill R/L

10 elephant trunk

10 pvc passthrough
10 pushup with hand position changes

30 seconds slappy hugs

3 forward arm circles

3 backward arm circles

5 explosive pushup

5 around the world each way
1 minute couch stretch R/L
Weightlifting
5 supersets on a 3 minute clock:
Dumbbell Lunge Complex (5×8)
Perform the complex with a dumbbell or a set of dumbbells as prescribed.
8 alternating lunge backward step and loaded with a farmers carry. Build for the first 3 sets and hold a challenging load for the final 2 sets.
Push-ups (5x set)
3-10 explosive pushup (try to create separation from the floor. If you can do so easily then try a clapping pushup)
Metcon
Metcon (Time)
For time: *15 minute cap

25-20-15-10-5

Box over 24/20″

Hang power snatch 75/55# (Rx+ 95/65#)

Situp (Rx+ GHD)