Crossfit Cle – CrossFit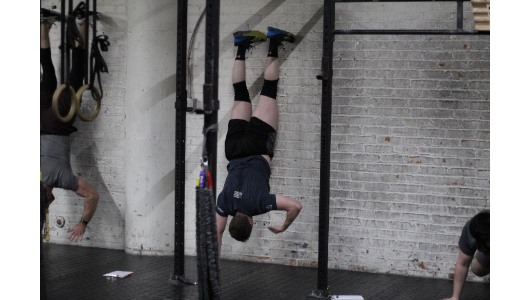 Looks like a good day to get upside down!
Warm-up
Warm-up (No Measure)
2 rounds, 30 second stations:

Lateral box step over

Updog to downdog transitions

Double dumbbell hang power clean (Light)

Double dumbbell push press (Light)
1 minute banded ankle mobility R/L

1 minute couch stretch R/L
Warm up your pistols and handstand pushups with small sets of simpler reps than you plan to do for the gymnastics. Work up to your full scale movement
Gymnastics
16 minutes alternating OTM:

Handstand drill work (done by 30 seconds)

Pistols 10-20 reps (done by 45 seconds)
Handstand drill (8x)
Pick a handstand drill and perform it in regular intervals.
Pick anything you wish from wall climbs, to handstands to hanstand walking. Work for no more than 30 seconds each
Pistols (8x set)
Work for no more than 45 seconds. Quality over quantity. Work on range and control.
Metcon
Metcon (Time)
7 rounds for time:

5 clean 155/105#

10 toes to bar