Crossfit Cle – CrossFit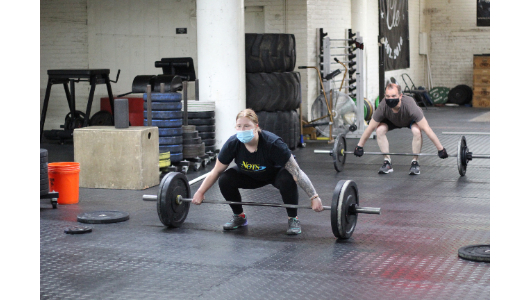 Set ups are critical when we lift heavy. Set up well to lift well!
Warm-up
Warm-up (No Measure)
2 rounds:

10 kb deadlift

10 goblet squat

10 kb swing

5 kb strict press R/L
10 banded good morning

10 Crossover band row (heavy band, focus on setting shoulder blades before the arms move.)

10 band passthrough
1 minute pigeon pose R/L
Weightlifting
Deadlift (20 minutes to build to a heavy single)
Spend the first 10 minutes warming up and building weight. Lift heavy singles for the final 10 minutes and build to a safe, heavy single for the day. Control your lifts back to the floor.
Metcon
Metcon (2 Rounds for time)
2 rounds for time:

200m run

15 kettlebell swing 53/35#

10 pullup
-Rest 3 minutes, then repeat the 2 rounds.
This should be done at a high intensity! Can you do your first 2 rounds in less than 4 minutes? If you have a sub 10 minute "Helen" time, consider doing 70/53# and chest to bar pullup for Rx+.