Crossfit Cle – CrossFit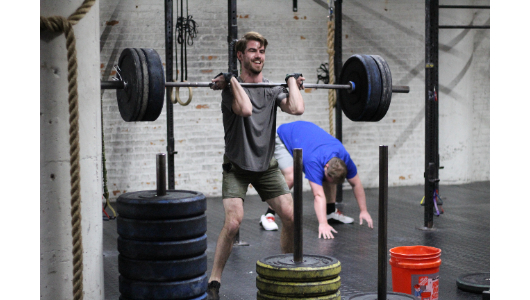 Let's load up some barbells!
Warm-up
Warm-up (No Measure)
2 rounds, 30 seconds per station:

Single under

Backward single under

Lunge and twist/Samson's stretch

Barbell muscle clean and strict press (do a slow step by step return for your next rep, shoulders, thighs then down to mid shin)

Alternating spiderman
2 minute thoracic spine/lat roll or other shoulder/overhead mobility.

2 minute couch stretch or other squat mobility

2 minute cranky elbows or other front rack mobility
Pick your jerk type that you will use to max out your clean and jerk. Do 3×5 reps a barbell working for perfect warmup reps.
Weightlifting
Clean and Jerk (1RM)
20 minutes to build to a 1RM Clean and Jerk. Use the first 10 minutes to warmup and practice technique before going for your 1RM.
Metcon
Metcon (3 Rounds for reps)
Back to Back to Back Tabatas:

Double under

Alternating overhead lunge 95/65#

Sumo deadlift high pull
*Complete a full 8 round Tabata at each movement. Shoot for a consistent number and record each movement as total reps completed (3 rounds for 3 movements).