Crossfit Cle – CrossFit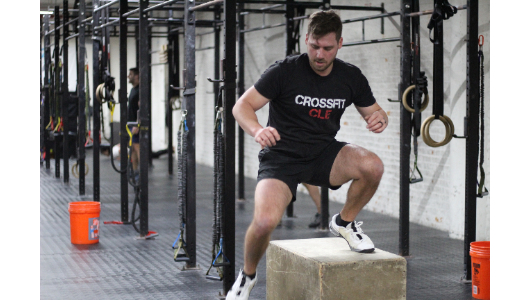 Only one more round of the 2022 Open! What movements will we see this Thursday?
Warm-up
Warm-up (No Measure)
2 rounds:

5 single arm dumbbell strict press R/L

5 dumbbell windmill R/L

10 pvc passthrough

5 I – raises

10 scap pullup
10 Samson's stretch

1 minute banded lat stretch R/L

1 minute cranky elbows stretch
Drill strict press and push press with a barbell before adding load
Weightlifting
Shoulder to overhead complex (5 sets)
5 superset rounds on a 3 minute clock:

2 strict press + 3 push press

10 banded no moneys

*Build to a heavy finish on the complex.
Metcon
Metcon (5 Rounds for reps)
15 minutes alternating OTM:

Gymnastics complex:

3-5 toes to bar

2-4 pullup

1-3 bar muscle up

Big set of double under (30-45 seconds of work)

Double dumbbell lunge complex:

6 overhead walking lunge

6 racked walking lunge

6 farmers carry walking
*Use weight on the lunge that allows you to move smooth and unbroken through your steps. Score your total double unders completed, note your gymnastics and the dumbbell weights.