Crossfit Cle – CrossFit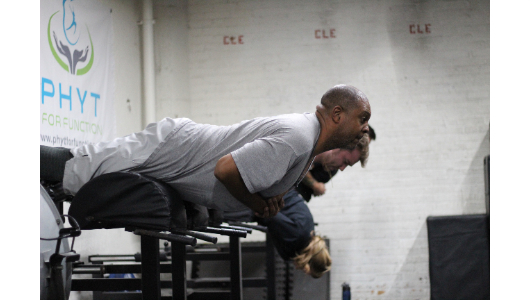 Things are looking up…
Warm-up
Warm-up (No Measure)
2 rounds:

15 air squat/ overhead squat

10 pvc passthrough

10 good morning/ sumo fold over

5 prone snow angel
2 minute foam roll lats/thoracic spine or other overhead mobility
2 minutes banded ankle mob or other ankle/calf work
2 minute couch stretch or other squat related mobility
Weightlifting
5 superset rounds on a 3 minute clock:

5 overhead squat

10 hip extension (Weighted if possible)
Overhead Squat (5×5)
Work to a heavy but safe set of 5.
Hip Extension (5×10)
Prone on a GHD. Neutral spine, working hip ROM.
hold a plate on your chest or a barbell on you back.
Metcon
Metcon (Time)
For time: *12 minute cap

12-9-6-3

Handstand pushup

2x Pistol

5x Double under (10x single under)
*Rx+ for deficit handstand pushups.
50 Burpee February
50 Burpee February – Day 29 (Time)
Every 4 years there is an "extra" day in February that balances out the our calendar. Today is your day to balance things out. Repeat a day or make up your own burpee entirely! Have fun and know you've made it through February!
*Rx+ if you've done all the burpees.