Crossfit Cle – CrossFit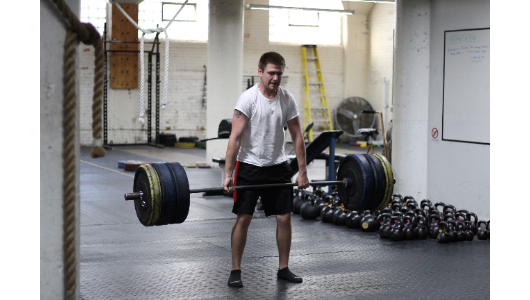 Did you miss out on the deadlift 1RM yesterday? Don't sweat it! make it up today!
Warm-up
Warm-up (No Measure)
200m jog

5 dumbbell windmill R/L

10 Samson's stretch

5 barbell back squat (just the bar)

30 second pigeon stretch R/L

10 scap pullup

5 back squat (add some weight)

10 sumo foldover

10 pvc passthrough

5 back squat (add more weight)
2 minute olympic wall squat
Weightlifting
Back Squat (7 superset rounds on a 3 minute clock:)
5 back squat (start build up for 3 sets and stay heavy for the final 4)

Large set of pullups (Do a relatively large set of pullups, either strict or kipping, working on building strength or skill.)
OR: Deadlift (1 RM)
20 minutes to build to a 1RM deadlift.

*Use rest time to mobilize for the heavy deadlift (pigeon stretch, crossover stretch, roll spine, etc.).
Metcon
Metcon (AMRAP – Rounds and Reps)
7 minute AMRAP:

5 power clean and jerk 135/95#

15 GHD situp

35 double under (70 single under sub)