Crossfit Cle – CrossFit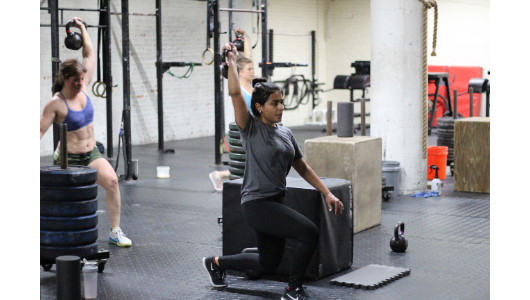 Let's check that overhead mobility, stability and confidence!
Warm-up
Warm-up (No Measure)
High knees down

Butt kicks back

Lunge and twist

High kick + floor touch
7 crossover band snow angels

15 PVC passthrough

10 Y raise

10 press in snatch
2 minute olympic wall squat stretch

2 minute keg stretch/ lat smash
Spend 3 minutes drilling the snatch balance with the PVC before moving to barbells.
Weightlifting
Snatch Balance (20 minutes to establish a 1RM)
*Time to check confidence and capability overhead! We will be doing a 1RM snatch soon. Set yourself up to be more confident by putting big weights overhead!
Metcon
Metcon (Time)
2 rounds for time:

500m row

10 power clean 65-70% of 1RM power clean and jerk

200m run

10 push jerk
*Pace the row and run. Attempt to attack the heavy barbell and complete your 10 reps in 1-2 sets each round.