Crossfit Cle – CrossFit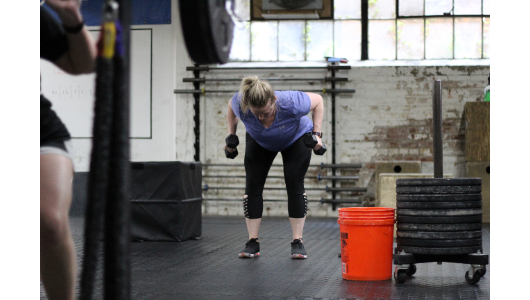 Dumbbells and deadlifts! Let's get a little stronger!
Warm-up
Warm-up (No Measure)
3 rounds:

5 burpee

Jog down

Backpedal back
10 sumo foldover

10 pvc passthrough

10 Samson's stretch to elephant trunk

10 thread the needle

10 pvc passthrough in an active squat
5 reps of the deadlift+RDL
Weightlifting
6 superset rounds on a 3 minute clock:
Deadlift (6×4)
4 deadlift + Romanian deadlift (60% of your 1RM deadlift all sets)
Dumbbell Bench Press (6×10)
Bench press with dumbbells
10 double dumbbell bench press (build for 2 sets and hold for the final 4)
Metcon
Metcon (5 Rounds for time)
5 rounds each for time, rest 1 minute between rounds:

200m run

15 kettlebell swing 53/35#

10 pullup

*Keep rounds under 2 minutes. Scale swing and pullup reps to be able to reliably do both movements unbroken.

**Rx+ for a heavier swing and/or chest to bar pullup.