**Tuesday – January 19th**
Crossfit Cle – CrossFit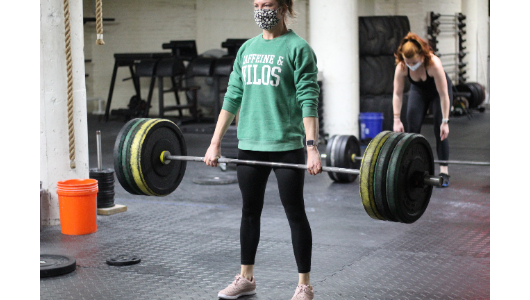 Won't be quite this heavy, but you still need that hook grip!
Warm-up
Warm-up (No Measure)
2 rounds, 30 second each station:

Med ball clean

Situp

Pushup to downdog

Lunge and pass through
2 minute banded front rack stretch (low band on rig) EA

2 minute couch stretch EL
Weightlifting
Clean and Jerk Complex (7x 2+2)
Perform as an unbroken complex. Use a hook grip
7 rounds on a 2 minute clock:

2 high hang clean + 2 split jerk

*Work 30-50% of your 1RM clean and jerk. Work with your coach to pick out and work to improve any small technique issues you can find. This is intended to be a minimal muscle damage session working on position, speed and timing.
Metcon
Metcon (Time)
For time:

18-15-12-9

Burpee pullup (bar 6″ outside your standing reach)

1 minute front rack hold (50% of your 1RM clean and jerk)
*Rx+ for a shifted rep count: 21-18-15-12