**Tuesday – January 11th**
Crossfit Cle – CrossFit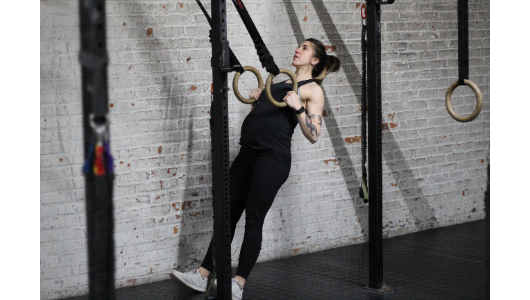 This bad ass lady is finally ready to take a break from the gym and bring another human into this world! Good luck Sarah!
Warm-up
Warm-up (No Measure)
3 rounds of strict "Cindy"

5 pullup/ring row

10 pushup

15 air squat (narrow stance)
5 prone snow angel

10 pvc passthrough

5 press in snatch

10 pvc high pull

5 K-Squat

10 low hang power snatch

5 around the world each way
1 minute calf smash or stretch R/L

2 minute thoracic spine/lat roll
Gymnastics
16 minutes Alternating OTM:

Set of handstand pushup

30 seconds of pistols
Handstand Push-ups (5+reps)
Perform in a single set each round. You may choose to work on building strength with strict handstand pushups, working skill with kipping reps or doing some of both.
Pistols (30 seconds of work)
Metcon
Metcon (2 Rounds for reps)
2×3 minute AMRAPs, rest 3 minutes between:

7 power snatch 95/65#

35 double under (30 seconds of work, 70 single under)