**Tuesday – February 8th**
Crossfit Cle – CrossFit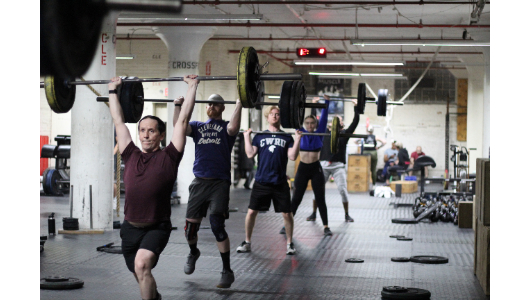 Don't let that barbell get in your head!
Warm-up
Warm-up (No Measure)
2 minute erg

10 dumbbell strict press L/R

10 pvc passthrough

5 windmill L/R

5 around the world L/R

10 Samson's stretch

10 Cossack's squat
Weightlifting
3 superset rounds on a 6 minute clock:

15 deadlift

1-2 rope climb

Double dumbbell shoulder to overhead complex
Deadlift (3×15)
Start around 50% and build to a 15rm.
Rope Climb (3×1-3)
Work whatever skill practice is applicable to your current rope climb capacity.
Double Dumbbell Complex (3x complex)
Use two dumbbells for the prescribed reps.
Double dumbbell strict press to failure, set down dumbbells for 5 seconds and them pick them back up to push press them to failure.

*Use weight that allow a minimum of 10 strict press.
Metcon
50 Burpee February
50 Burpee February – Day 8 (4 Rounds for time)
4 sets each for time, rest 1 minute between sets:

15-15-10-10

Burpee box jump over
*Pick your box height to allow for safe reps at a fast pace.
**Rest 3 minutes before the AMRAP.
Metcon (AMRAP – Rounds and Reps)
5 minute AMRAP:

10 sumo deadlift high pull 95/65#

10 alternating lunge (back racked)