**Tuesday – February 23rd**
Crossfit Cle – CrossFit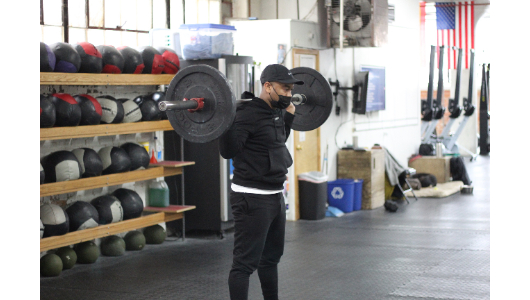 Another newcomer learning to cycle the barbell with us, welcome Torrez!
Warm-up
Warm-up (No Measure)
5 burpees on the North end, 10 situp on the South end:

High knees down

Butt kick back

High kick and floor touch

Samson's stretch
2 rounds with a PVC pipe:

3 down and finish

3 hang muscle clean

5 passthrough

3 dip and pause

3 high hang power clean to push press (time and cycle your catch to overhead transition)

5 passthrough
2 rounds with a barbell, 2 minute cranky elbows stretch between

5 low hang power clean and jerk (cycle overhead and transition into a smooth loading for a second rep)
Weightlifting
Power clean and jerk (10 minutes OTM: 5 power clean and jerk)
*Your focus here should be to perform these 5 reps as a smooth controlled touch and go set each round. Today explore through ascending weights you're capable of cycling for 5 reps OTM. In future weeks we will attempt to do this with progressively increasing weights. Last couple minutes will be very uncomfortable.
Metcon
Metcon (5 Rounds for time)
5 rounds each for time on a 4 minute clock:

7-10 burpee box over 24×18/18×24″

10-20 pullup
*Finish each round within 2:30 affording yourself a minimum of 90 seconds rest each round, scale accordingly.

**Rx+ for full reps and a weight vest .