**Tuesday – February 22nd**
Crossfit Cle – CrossFit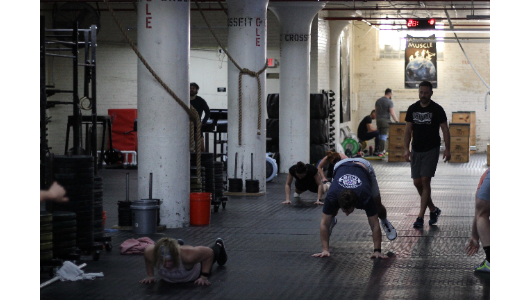 Only 7 days left in February!
Warm-up
Warm-up (No Measure)
2 rounds 30 second stations:

Jump rope

Alternating lunge

Spider-Man windmill

Sumo foldover
10 snap to hollow

10 dead bug

10 pvc good morning

10 pvc passthrough

10 barbell good morning
2 minute cranky elbows or other front rack mobility
Weightlifting
Good Mornings (4×10)
4 superset rounds on a 5 minute clock:

10 barbell good morning (Moderate load. <30% of backsquat max)
30 second flutter kick

30 second bicycle crunch

*Use extra time to mobilize your front rack, overhead position, squat and hip hinge positions.
Metcon
Metcon (AMRAP – Rounds and Reps)
10 minute AMRAP:

10 deadlift 115/80#

8 hang power clean

6 front squat

4 shoulder to overhead

50 double under(100 double under)
50 Burpee February
50 Burpee February – Day 22 (4 Rounds for time)
4 sets on a 2 minute clock:

13-13-12-12

Burpee box hop 24/20″