**Tuesday – February 1st**
Crossfit Cle – CrossFit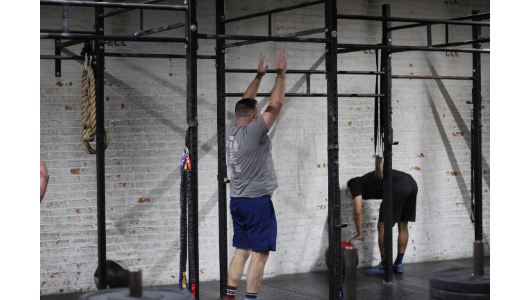 Today begins 50 Burpee February! Each day there will be an optional burpee component containing 50 burpees of variable deviousness! We challenge you to do as many of them as possible this month and log your results in Wodify!
Warm-up
Warm-up (No Measure)
2 rounds, 30 seconds per station:

Single under

Jumping Spiderman

Prone snow angel

Situp and reach

Ring row
5 sumo foldover

10 banded good morning

10 banded strict press
1 minute banded hip opener R/L

1 minute banded lat stretch R/L
Gymnastics
7 superset rounds on a 3 minute clock:

30-60 seconds of double under work (50 reps max)

Handstand skill and drill

Small set of strict pullup (80% perceived exertion)

*Nothing to exhaustion, work on quality and consistency.
Double-Unders (30-60 seconds of work (50 rep max))
Handstand drill (7x)
Pick a handstand drill and perform it in regular intervals.
Strict Pullup (7x)
Do your best to hold your body in a hollow and pull the bar to your body. Use bands or modify to rows as needed.
*80% percieved exertion.
Metcon
Metcon (Time)
For time: *7 minute cap

70/55 cal row

30 power clean 135/95#
*Rx+ for 155/105#
50 Burpee February
50 Burpee February – Day 1 and 28 (Time)
For time:

50 burpee to a 6″ touch
*This is day 1 and day 28. Set your mark and see how much you improve!