**Tuesday – December 14th**
Crossfit Cle – CrossFit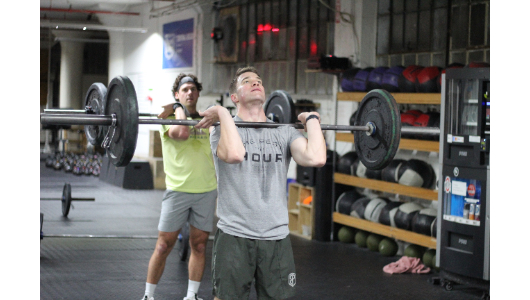 The pain of stillness.
Warm-up
Warm-up (No Measure)
8 Spider-Man lunge with upward rotation

8 Thread the needle start from quadruped and move to heels on buttocks

8 Prone reaches

8 Shoulder taps
2 rounds:

5 Med ball clean

30 second deep squat with med ball hold, mobility into ankles as needed

5 Med ball FS

5 Med ball ground to OH
Weightlifting
Clean and Jerk Complex (Build to a complex max)
Perform as an unbroken complex.
Every 30 seconds for 5 minutes, then 10 minutes OTM:

Clean into thruster

Push jerk

Split jerk

*First 5 minutes at a single, light weight, later 10 minutes build to a max for the complex.
Metcon
Metcon (AMRAP – Rounds and Reps)
12 minute AMRAP:

30 double under (30 seconds, 60 single under)

20 wallball shot 20/14# to 10/9′

10 single dumbbell burpee box over 20/18″ with 50/35# db