Crossfit Cle – CrossFit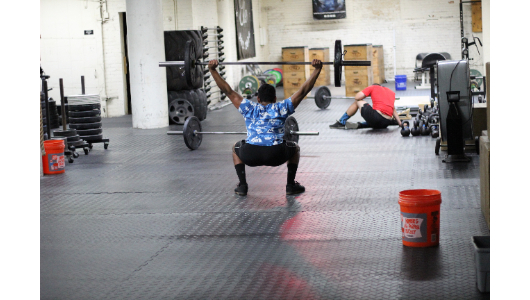 Keep it is light and fast!
Warm-up
Warm-up (No Measure)
200m run

5 PVC K-squat

10 passthrough

10 behind the neck strict press

10 spiderman windmill

10 press in snatch

10 overhead squat
3 minutes on a foam roller working through back and lats
1 minute banded hamstring lockout R/L
Weightlifting
5 supersets on a 4 minute clock:
Deadlift (5×4)
Start around 50% of your 1RM loaded on your barbell. Increase to very heavy load and hold or keep increasing for all 5 sets. Work to keep control on the descent. Don't let the band pull you out of shape.
Reverse Dumbbell fly (5×10)
Perform bent over with knees slightly bent.
Move smooth and controled reps at moderate weights. No herky jerky.
Banded Tricep Push Down (5×20)
Smooth but also fast. Try to keep the same cycle rate start to finish.
Metcon
Metcon (Time)
5 rounds for time:

10 hang power snatch 75/55#

10 overhead squat

200 run

Rx+ for heavier barbell.