**Tuesday – August 17th**
Crossfit Cle – CrossFit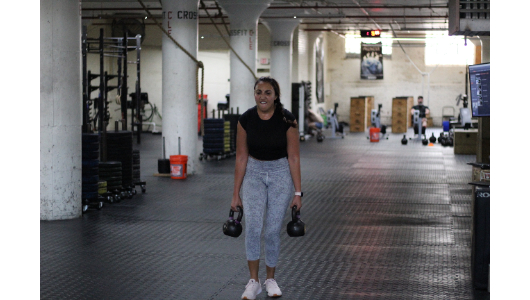 Welcome back to our house of fitness Samar! It's great to have you back!
Warm-up
Warm-up (No Measure)
2 rounds:

30 second single under

30 second sumo foldover

30 second abmat situp

30 second lunge and twist
10 scap pullup

30 second slow forward arm circles

10 leg lift and hold (1 long second)

30 second supinated grip hang

30 second slow backward arm circles
Accessory
Metcon (AMRAP – Reps)
4 rounds on a 5 minute clock:

1 high difficulty rope climb (perform the most challenging rope climb you can with as much control as possible. Scale to 30-45 seconds of rope climb drills or lower and raises)

30 seconds of dumbbell leg liftovers

Max seated single arm dumbbell strict press R/L (use a weight that causes failure between 10 and 15 reps with very good technique)
Use the notes to record your rope climbs and put the # of strict press reps in the AMRAP score.
Metcon
Metcon (2 Rounds for reps)
2×5 minute AMRAP, rest 2 minutes between AMRAPs:

7 box over 30/24″

3 wall climb (start and finish with the hand release)
Each round completed without modification is 10 reps. Should make scoring pretty easy.