**Thursday – September 9th**
Crossfit Cle – CrossFit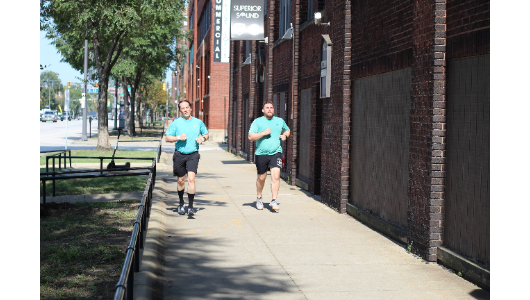 Happy to introduce another newer member. Welcome to CrossFit CLE Hooks!
Warm-up
Warm-up (No Measure)
High knees down

Butt kicks back

Tip toe

Heel walk

Stiff leg bear crawl

Over/under the hurdle (half and half)

Knee hug into Samson's lunge

Spiderman crawl
1 minute kettlebell calf smash R/L

1 minute banded crossover stretch R/L

1 minute banded hip opening lunge stretch R/L
Metcon
4x400m run/200m sprint (8 Rounds for time)
MetCon:

4 rounds, each effort for time:

400m run

2 minute rest

200m sprint

1 minute rest
*Run your 400m at a pace that you would be able to sustain for more than a mile. This will be necessary to allow you to continue recovering from the 200m sprints.

**Last programmed 7/22/2021.
Accessory
Metcon (3 Rounds for weight)
3 rounds, rest as needed between rounds:

6 double dumbbell alternating lunges (farmers carry style)

6 double dumbbell power clean

6 double dumbbell alternating lunges (dumbbells on shoulders)

6 double dumbbell strict press
*Complete as an unbroken complex. Start light enough that you will be able to increase weight each round. Score is the combined weight of your dumbbell set from each round.