Crossfit Cle – CrossFit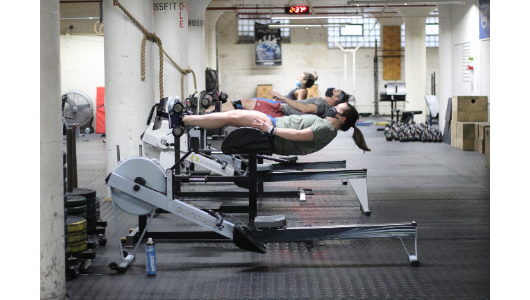 Who's down for a few synchronized situps?
Warm-up
Warm-up (No Measure)
Warmup:

2 rounds:

10 Med ball clean

10 Situp and reach (alternate left and right)

Pushup to updog

Lunge and passthrough
30 second supine crossover (EL)

3 minute keg stretch and lat/tricep roll out

1 minute couch stretch (EL)
Before going to your starting weight for the weightlifting, perform the complex 4 times with a barbell. Don't focus on speed but rather catch positions and smooth transitions. Today's barbells intended to be more of a heavy one than a fast moving one, especially on the back end when you are getting fatigued.
Weightlifting
Clean and Jerk Complex (10 minutes OTM:)
Perform as an unbroken complex. Use a hook grip
Power clean and jerk

Hang clean and jerk

*Use approximately 60-70% of your 1RM clean and jerk if possible.

**Score with your starting weight and your finish weight.
Metcon
Metcon (Time)
7 rounds for time: *15 minute cap

50m farmer's carry 20% of your 1RM deadlift each hand

15 GHD situp