Crossfit Cle – CrossFit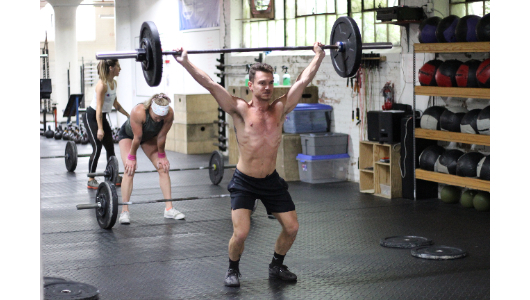 If you hit an 11:00am class this July, you are likely to meet this fine fellow! Chris, we are happy to have you anytime you're working in the playhouse district!
Warm-up
Warm-up (No Measure)
3 minute erg (easy, steady, hard)

10 situp and reach

10 updog and windmill

10 spiderman high/low
5 minutes to mobilize any personal issues.
Metcon
5 rounds, Cal, Run, Cal (5 Rounds for time)
5 rounds, each for time, rest 3 minutes between rounds:

15/12 calorie row, ski or bike

400m run

15/12 calorie
Round times should not exceed 4 minutes. Adjust calories and/or run distance to accommodate. Attempt to improve you scores from May 20th.
Accessory
Double Under Conditioning (AMRAP – Reps)
Pick a number that you believe you can consistently hit if you fully recover between attempts. Perform 10 rounds successfully hitting your number unbroken. If you mess up, recover fully and continue. Perform no more than 15 attempts.
If you are repeating this and becoming more consistent, start structuring your rest, decreasing it an increasing your set size as you start completing all rounds without errors.