**Thursday – August 4th**
Crossfit Cle – CrossFit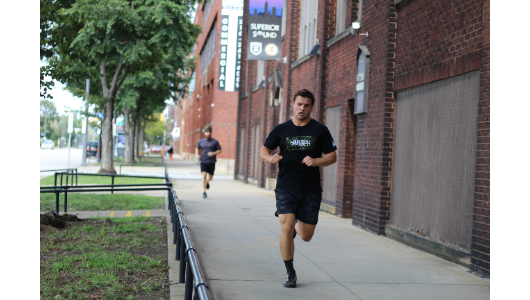 Lots of running! Pace wisely my friends!
Warm-up
Warm-up (No Measure)
400m run

10 burpee dumbbell snatch

10 lunge and passthrough

5 sumo foldover

5 Snow angel
30 second leg swings (all 4 ways)

1 minute couch stretch R/L

1 minute calf stretch/smash
3 minutes to work on yourself
re-warm by building up to your working weight for burpee dumbbell snatches
Metcon
Run and Burpee Snatch (5 Rounds for time)
5 rounds for time on a 6 minute clock:

800m run (600m/400m scale)

10 burpee dumbbell snatch 50/35#

*Rounds must be completed in less than 5:00. Scale the run accordingly. Run pace should be stead and repeatable. Burpee dumbbell snatches should be very fast.