**Thursday – August 19th**
Crossfit Cle – CrossFit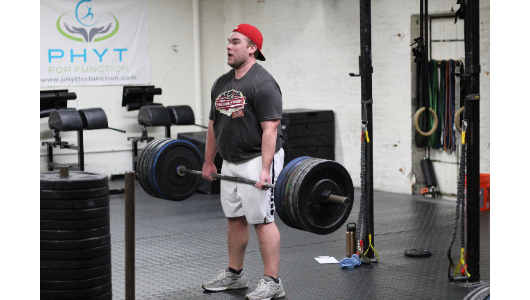 This guy! Crushing some serious deadlifts! Welcome to CrossFit CLE Hunter!
Warm-up
Warm-up (No Measure)
3 rounds:

5 pushup

Jog down and back
Toe walk down

Heel walk back

High knee

Butt kick

Over the hurdle under the hurdle (half left, half right)

Knee hug into lunge

High kick and floor touch
1 minute calf smash R/L on kettlebell

5 minutes to work any needed mobility
Metcon
Metcon (4 Rounds for time)
4x800m run, rest 3 minutes between efforts.
Each round should be under 5 minutes. Scale to 600m run if needed. Record a time for each round.
Gymnastics
Handstand Walk (10 minutes of practice)
Work on drills and holds that are applicable for your skill level. If you are a stronger at handstands and handstand walks, use the clock to make a small workout and increase the difficulty to challenge your skills.