Crossfit Cle – CrossFit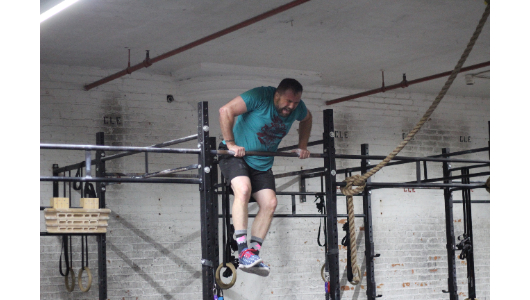 Fancy gymnastics can be challenging and fun. Be sure to keep yourself focussed on what YOU need to do to improve YOUR movement.
Warm-up
Warm-up (No Measure)
200m run

Stiff leg bear crawl down

Samson's stretch back

15 PVC passthrough
2 rounds with a barbell, perform mobility between rounds:

5 down and finish

5 hang muscle clean

5 front squat

5 low hang power clean
2 minute cranky elbows stretch
2 wall climb (10 second hold at the top)
2 minute keg stretch
Warmup into your power clean weight and handstand walk/handstand work
Metcon
Metcon (Time)
For time:

10-9-8-7-6-5-4-3-2-1

Power clean 135/95#

25' handstand walk (20 shoulder taps)
*This is a workout where athletes who have some handstand walks should work on using them in workouts. Each set of handstand work should be completed in 2-3 sets and ideally will take no more than 45 seconds. Scale distance or rep counts as necessary.
Weightlifting
Bottom to Bottom Press in Snatch (5 rounds, 1-2-3 BTB press in snatch)
Once you've performed a press in snatch, stand up and then squat back down with the barbell overhead. Lower to your back while still in the squat and then repeat.
With a PVC or barbell:

1 press in snatch, stand up the

return to a squat (with barbell overhead)

2 press in snatch, 2 overhead squat

3 press in snatch, 3 overhead squat