**Saturday – February 5th**
Crossfit Cle – CrossFit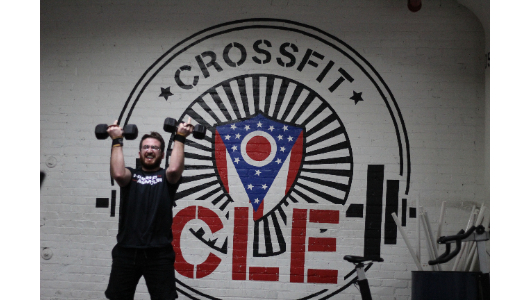 We will definitely be missing this guy! David, thank you for spending so much of your time in Cleveland here at CrossFit CLE sweating and smiling! Keep kicking ass buddy!
Partner MetCon
Metcon (Time)
3 rounds for time:

50 wallball shot 20/14# to 10/9′

50 kettlebell swing 53/35#

50/40 calorie erg (synchronized)
*Split work as desired. Attempt to wear down the stronger athlete of your team by loading them with more wallball shots and swings to help even out the pace on the erg.
50 Burpee February
50 Burpee February – Day 5 (Time)
For time:

50 Burpee broad jump
*Perform a moderate jump . Work at slow and steady pace from the start so you aren't forced to grab the brakes. speed up in the second half if possible.