**Saturday – August 7th**
Crossfit Cle – CrossFit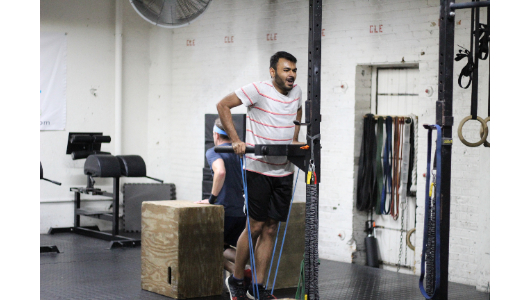 Working hard or hardly working! Awesome job Mayur! Happy to have you here at CrossFit CLE!
Partner MetCon
Metcon (AMRAP – Rounds)
20 minute AMRAP:

20 dumbbell snatch + overhead lunge (Do a dumbbell snatch and lunge with your opposite leg (right arm snatch = left leg forward) alternate on the snatches and thus also on the lunge.)

30 wall ball shot 20/14# to 10/9′

20 pullup/ 5 rope climb
*Do pullups for 10 minutes and rope climbs for 10 minutes. Split work as desired.
Accessory
Turkish Get Up (1R/1L)
15 minutes to build up to a very heavy single for a Turkish get up on each arm. Control up and all the way back to the ground.