**Saturday – April 16th**
Crossfit Cle – CrossFit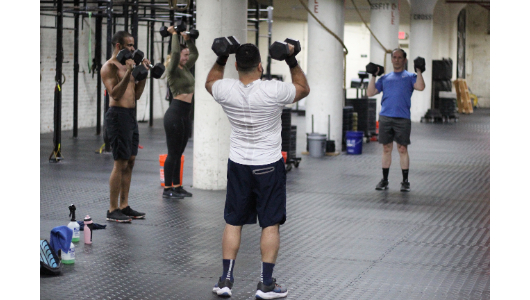 Partner MetCon
Metcon (Time)
5 rounds for time:

1k row/ski or equivalent (800m run, 2k bike)

20 double dumbbell hang power clean and jerk 50/35# set

30 toes to bar

*Split work as desired.
April Kettlebell Challenge
#5: Kettlebell Swing (3×50 unbroken)
3 sets of 50 kettlebell swings with 1-2 minutes of rest between. Keep each set unbroken, use heavier weight than you did for 100 swings last week.
#6: Metcon (Time)
For time with the heaviest kettlebells that allow you to complete each set unbroken:

21-15-9

Kettlebell swing

Walking lunge kettlebell overhead Half Right arm/ Half Left arm (add one rep to even things out, 22-16-10)
Put weight in the notes
#7: Metcon (AMRAP – Reps)
Erg with Extra Steps (Thursday MetCon)

Report total rep count
#8: Metcon (AMRAP – Rounds and Reps)
12 minute AMRAP:

10 kettlebell snatch

15 goblet squat

20 pushup
Note your weight