**Monday – September 12th**
Crossfit Cle – CrossFit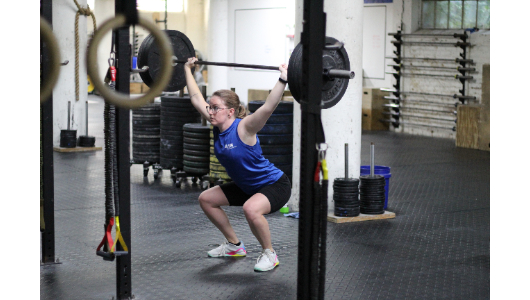 Time to test your strength!
Warm-up
Warm-up (No Measure)
2 minute erg

5 yoga inchworm with updog windmill

10 pvc passthrough

10 alternating pigeon

5 sumo foldover

10 spiderman and reach

5 around the world each way
Demo and review DL with 10 pvc reps
With a rubber band:

1 minute crossover R/L

1 minute banded double lat stretch
Weightlifting
Deadlift (20 minutes to 1RM)
Spend the first 10 minutes warming up, stretching and building into heavy singles for the closing 10 minute.
Metcon
Metcon (3 Rounds for reps)
3×3 minute AMRAP, rest 2 minutes between

20 wallball shot 20/14# to 10/9′

20 pullup

Muscle clean and strict press #115/80#

*Don't spend more than a minute doing wallball shots and a minute doing pullups. Modify your reps to fit that window so you have a minimum of 1 minute to do muscle clean and strict press reps. Rx + for heavier barbell.