Crossfit Cle – CrossFit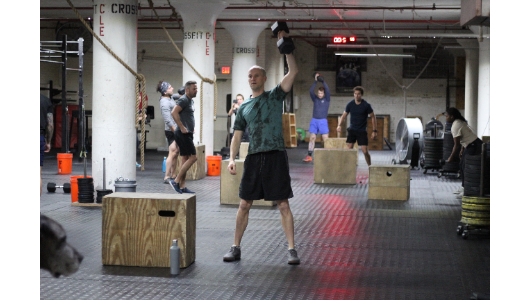 It's time to dance with those dumbbells! Please be extra careful when you put them back on the rack.
Warm-up
Warm-up (No Measure)
2 rounds:

2 Jog down and backpedal back

10 pvc passthrough/ In a squat

10 spiderman

5 prone snow angel (lightly weighted if possible)
Foam roll thoracic spine and or do shoulder mobility for 5 minutes.
Burgener warmup:

5 reps each movement:

Down and finish

Elbows high and outside

Hang muscle snatch

Power snatch balance

Low hang power snatch
Weightlifting
Power Snatch (5×3)
5 superset rounds on a 3 minute clock:

3 power snatch (Perform as 3 quick singles. Start around 60% of your 1RM power snatch and build to a heavy set of 3.)

10 V-up or Lemon squeeze followed immediately by 30 seconds of flutter kicks
Metcon
Metcon (Time)
For time: *15 minute cap

30-20-10

Burpee dumbbell snatch 50/35# (alternating arms each rep. You may do the burpee with your hand on the floor or the dumbbell.)

*The workout starts with a 400m run, and you must run 400m after each set of Burpee DB snatch. 4 total 400m runs.

**Rx+ for a heavier dumbbell (don't attempt unless you are confident you will not be capped.)