Crossfit Cle – CrossFit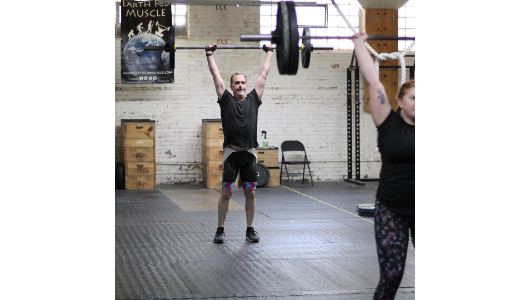 Reps, reps, reps! Keep those barbells moving!
Warm-up
Warm-up (No Measure)
3 minute row (easy, steady, hard)

10 banded strict press

10 banded good morning

10 pushup to updog

10 Cossack's squat

10 PVC passthrough

10 PVC push press
20 banded hamstring floss R/L
Weightlifting
Deadlift (7×5)
7 superset rounds on a 3 minute clock:

5 deadlift 70-80% of 1RM from last week

30 second max pushups
Metcon
Metcon (3 Rounds for reps)
Tabata 3 Things

Alternate movements for 15 minutes

Air squat

Push press 115/80#

lateral burpee over barbell
*Pick numbers and try to maintain them. Scored as three different totals, one for each movement.