Crossfit Cle – CrossFit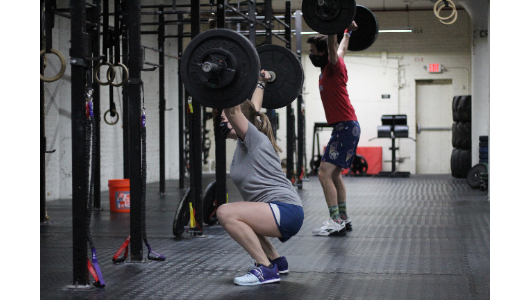 Great overhead squats everyone! let's use that confidence and build into testing some power snatches!
Warm-up
Warm-up (No Measure)
2 minute row

With a PVC pipe

10 lunge and passthrough

10 overhead squat

10 power snatch balance

10 hang power snatch
2 minute olympic wall squat

2 minute keg stretch/lat smash
With a barbell:

5 down and finish

5 elbows high and outside

5 hang muscle snatch

5 low hang power snatch
Weightlifting
Power Snatch (20 minutes to build to a heavy single)
*Spend the first 10 minutes working with lighter weight and prime good movement. Then spend 10 minutes lifting heavy singles.
Metcon
Metcon (AMRAP – Rounds and Reps)
13 minute AMRAP:

3 bar muscle up (7 pullup or chest to bar pullup)

7 double dumbbell thruster 50/35#

19 double under (50 single under)