Crossfit Cle – CrossFit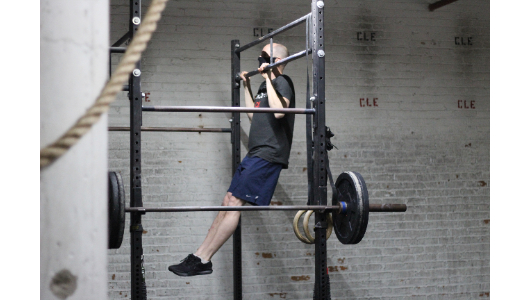 Rome wasn't built in a day and neither are good strict pullups!
Warm-up
Warm-up (No Measure)
2 rounds:

200m row

10 banded goodmorning

10 spiderman and reach

10 glute bridge
2 rounds:

5 Crossover band 90/90 raise

5 I raise

30 second hanging lat stretch and
10 banded hamstring floss reps (EL) 5 second hold for each lockout

1 minute of elevated pigeon (EL)
Gymnastics
Gymnastics Mashup (7 superset rounds on a 2 minute clock:)
Focus on building strength and skill. Better positions, better timing, better mechanics.
Strict pullup set (build from 60% of max effort to 80% of max effort)

10 Russian kettlebell swing (heavy)

*We did a similar pullup piece on February 16th, check out your pullup numbers and choose your volume for today accordingly.
Metcon
Metcon (Time)
2 rounds for time: *6 minute cap

30 wallball shot 20/14# to 10/9″

15 deadlift 100% of your 1RM power clean
*Rx+ for 30/20# WBS. Be careful this your scaling (up or down)! this workout needs to be done at a very high intensity!