Crossfit Cle – CrossFit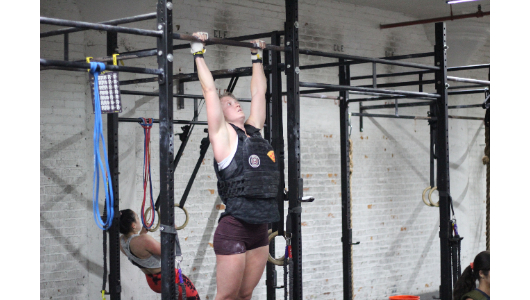 Weighted pullups anyone?
Warm-up
Warm-up (No Measure)
200m row

10 spiderman windmill

10 banded good morning

10 sliding Cossack's squat

200m row
30 second supinated grip hang

20 banded hamstring lockouts R/L

10 scap pullup

1 minute R/L banded hip opening lunge stretch
Get barbells out and warm up into the heavy deadlif
Weightlifting
Deadlift (7×5 on a 3 minute clock)
7 superset rounds on a 3 minute clock:

5 deadlift 70-85%

3 strict pullups

*Increase your deadlift loads from what you did on May 24th. Perform the strict pullups as peak difficulty for you. Add weight or use band assistance to make three reps a very aggressive effort.
Metcon
Metcon (AMRAP – Rounds and Reps)
9 minute AMRAP:

3-6-9-12-15…

Pullup

2x wallball shot 20/14# to 10/9′

5x double under (10x single under)
Rx+ for chest to bar pullup and 30/20# wallball shot