Crossfit Cle – CrossFit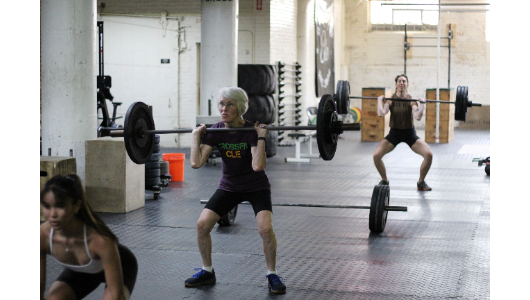 Let's kick some ass and lift some weights!
Warm-up
Warm-up (No Measure)
3 rounds:

5 K squat (smooth)

5 pushup to updog

10 passthrough

5 dumbbell strict press R/L
10 Cossack's squat

5 dumbbell windmill R/L

5 Crossover band snow angels
Set up GHD for hip extensions and warmup 3-4 sets of back squats to get to 75%
Weightlifting
6 superset rounds on a 3 minute clock:
Back Squat (6×3)
start around 75% and build for 3 sets, hold weight above 85% for the final sets.
Hip Extension (6×10)
Prone on a GHD. Neutral spine, working hip ROM.
Smooth controlled descent, swift ascent. Load with a plate if possible.
Metcon
Metcon (Time)
3 rounds for time:

21 sumo deadlift high pull 95/65#

15 front squat

9-6-3 wall climb