Crossfit Cle – CrossFit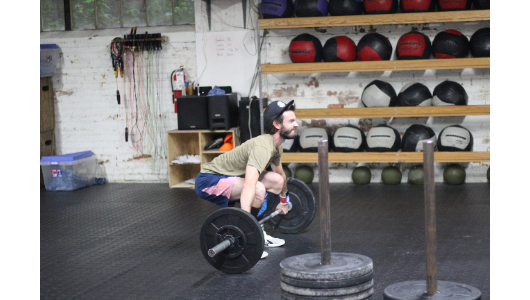 No strain, no gain! Let's move some barbells!
Warm-up
Warm-up (No Measure)
2 minute row

5 yoga inchworm

10 PVC passthrough

10 scap pullup

30 second forward single under

30 second backward single under

10 straight leg situp and reach
3 minutes on a foam roller (work through the whole back)

1 minute R/L pick your poison: pigeon stretch or hamstring stretch
Weightlifting
Deadlift (7×2 on a 3 minute clock)
7 superset rounds on a 3 minute clock:

2 deadlift (build to a 2RM)

3-4 strict pullup negatives

*Control your pullup negatives for 4-5 seconds. String your reps together with strict pullups to reset to the top if you have strong strict pullups.
Metcon
Annie (Time)
50-40-30-20-10
Double-unders
Sit-ups