Crossfit Cle – CrossFit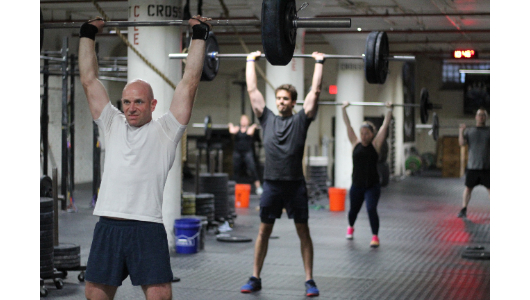 Pick it up and put it overhead… 30 times!
Warm-up
Warm-up (No Measure)
2 rounds, 30 seconds per station:

Med ball clean

Weightless windmill

PVC passthrough

Push press/Push jerk

Situp/Situp and reach
10 alternating spiderman (get low or reach if you want, 5 second holds)

30 second pigeon R/L

1 minute banded crossover/open R/L

1 minute banded lat stretch R/L

1 minute cranky elbows
Metcon
Grace (Time)
For Time:
30 Clean and Jerks, 135# / 95#
*For this workout, "clean and jerk" allows for any type of clean and any lift overhead. Scale weight to allow for a time under 5 minutes (6 reps per minute).
Weightlifting
7 superset rounds on a 3 minute clock:
Front Squat (7×2)
2 front squat build from 60% to a 2RM for the day
GHD Sit-ups (7×7-15)
One smooth set.