Crossfit Cle – CrossFit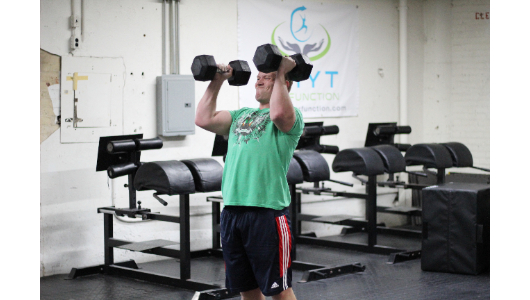 Put 'em in the air!
Warm-up
Warm-up (No Measure)
2 rounds:

5 pushup

5 situp

5 air squat

Jog down

Back pedal back
5 crossover I-T-Y raise

5 k-squat (long good mornings, short squat)

15 pvc passthrough

10 lunge and twist to elephant trunk
30 seconds each side:

PVC staff stretch (hit the lats)

Doorway stretch
Weightlifting
5 supersets on a 3 minute clock:

5 seated double dumbbell strict press

10 band pull apart

5 no money's
Seated double dumbbell strict press (5×5)
Build up for the first 2 rounds and then hold a weight that is extremely challenging for a set of 5 on the last 3 rounds. Think a 9 RPE.
Metcon
Metcon (AMRAP – Rounds and Reps)
12 minute AMRAP:

10 deadlift 225/155#

10 dip

10 toes to bar
Keep the barbell light enough that you can complete the 10 reps in 1-3 sets each round. Scale the dips and toes to bar to complete in 1-2 sets. Minimum scores should be 5+ rounds. An athlete on the attack will complete 8+.